In response to pezz4pats' comment:
[QUOTE]
OK, That's a raw data collection of stats. Does not account for Highest number of picks and actually lowers % of active players compared to teams with lower amount of picks. Also is the high draft pick position take into account no picks in the first round, twice from trading out of the first
This is more accurate;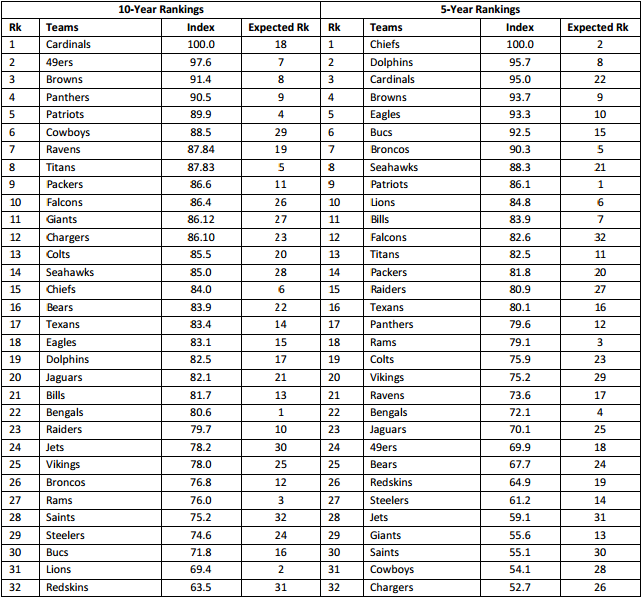 [/QUOTE]

I know. I said as much in my post. What is better than Raw data? You are buying into the writer of that article putting a percentage on things by taking into account # of picks.
Who cares about number of picks?
I only care how many they end up with who can make a roster spot on the team. Not the percentage of how many.
Because the Patriots organization decides to increase their odds by making more picks in a 50/50 environment you actually want to penalize them for the strategy instead of saying hmm you know what that is smart to do that. They are not cheating. Every organization has the option to take the same approach as them. Why penalize then in the evaluation process simply because others choose not to do it? Makes no sense to me.
It is your opinion and right to think that way for sure.
I disagree. I think it is a much better approach to make more picks in a 50/50 proposition environment.
Not only do I think it is a better over all approach, I ALSO think it allows you to take risks on players you might not otherwise feel up to taking a risk on. Not to mention taking a player earlier that you do not want to leave to chance that he might end up a UDFA that you have to compete for. I would rather control that players destiny.
2010 would be an example. They had a lot of picks. Gronk had an injury thing, Hernandez had a character thing, Zoltan was a punter. It allows both flexibility AND a greater chance dealing in a 50/50 or less proposition.
You don't like it, I like it. No biggie. We'll agree to disagree.
I simply think it means more to look at the raw data before putting a filter on it. The RAW data says the Pats are doing pretty good so it would make sense you would not like that set of data.
Kind of like looking at a beautiful woman as long as she's wearing makeup because she is a kick-azz makeup artist but seeing her without it is like looking at the RAW data. The real truth.
Just my opinion of course. (and you are correct neither option has the Patriots listed as the "best" drafters in this scenario)
However, I do not think the thread was solely about drafting though. It was about GM which takes into account UDFAs, managing the cap, which means being able to turn over your roster effectively and somewhat frequently, free agency, etc etc. I do not even know how one begins to fully quantify that, especially since I am not sure how many have equal longevity in the role for a single org?